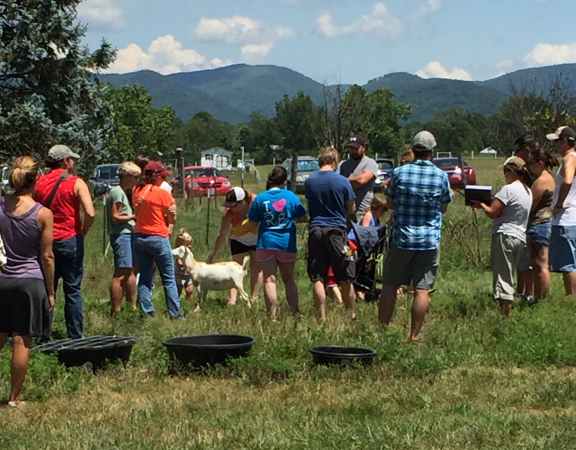 Group Tours & Field Trips
We give tours
year round
(see schedule below) and glady do group tours and field trips too!
Contact us
to schedule a group tour. Fees vary depending on group size. Find our public tour/events schedule below. :)
Private Sessions
Want to visit the farm at a time that works best for YOU? We are happy to schedule private sessions most any day of the week (based on availability). Setup a private session to do ONE of the following:
- Spend a leisurely hour interacting with the goats
- Come for a private "All About Goats" session where you will learn all about goats, their biology, behaviors and care
- Learn how to get setup, run and read your own fecal results
- Learn how to make cold process soap (materials are additional fee)
- Learn the basics of cheese making
- Learn specific things like hoof trimming, milking practices ...etc
- Basically, if its something you want to experience or learn, email us and we can discuss further!
Cost
- All private sessions are $50. They last one hour. We can usually setup two private sessions back to back for a 2 hour session ($100) if there is a lot you want to cover during your visit.
Contact us
via email to schedule your private session.
Public Classes/Workshops
Upcoming Events
***ALL ABOUT GOATS*** meet & learn about these facinating creatures! ***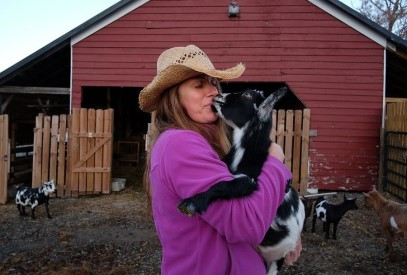 This is the workshop to signup for if you want to hug and kiss on sweet little goats! ;) It will be informative and interactive with these sweet little creatures!!! :D We will learn "All About Goats", from the basics to more advanced facts! Its a lot of fun and great for all ages! This is a great session for folks interested in beginning with goats, but also just fun if you want to just come experience some sweet goat lovin'! ;)

November - Saturday 11/12/16 at 2pm - SESSION IS FULL
December - Saturday 12/10/16 at 2pm
January - Saturday 01/14/17 at 10:30am - SESSION FULL
Saturday 01/21/17 at noon - SESSION FULL
2/5/17 at noon - SESSION FULL
2/11/17 - SESSION FULL
2/18/17 - SESSION FULL
2/25/17 - SESSION FULL
3/4/17 noon-2pm
4/1/17
4/23/17
6/24/17 - 11am-12:30pm
9/09/17 - 11am-12:30pm - SESSION FULL
10/21/17 - 11am-12:30pm



Cost - $10 per adult, $5 per child. $25 cap per family. Children 2 and under are free. Cash or check only. RSVP to reserve your spot!Please RSVP
to any of these tours with a simple email or text
(click HERE for contact info)
. I like to have an idea of how many people to expect and open up a second session if a lot of people RSVP for one.
Tours start promptly so please plan accordingly to be on time. Once the group leaves the front of the farm we can't stop the tour to come back and get you. :)
***Soap Making Demonstration***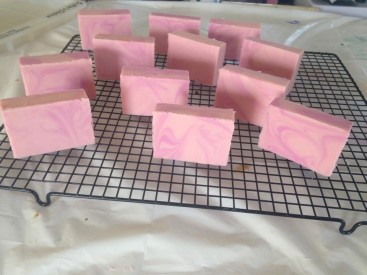 April 30th,2017 11am (reserve your spot with paypal button below)

We will cover materials needed, safety considerations, and step through a cold process soap recipe making goats milk soap. This will be a friendly, casual atmosphere where dialogue and Q&A is welcome throughout the demonstration. Participants will be limited to 12. Cost is $10 AND YOU GET to go home with a lovely bar of goat's milk soap (which retail for $6). :) You must pay in advance to reserve your spot. Please plan accordingly to be on time. Once the group has left the front of the farm, we can not stop the class to come back and get you. :)
* Your paypal payment receipt will serve as confirmation of payment & your space reserved. :)
***Cheesemaking 101***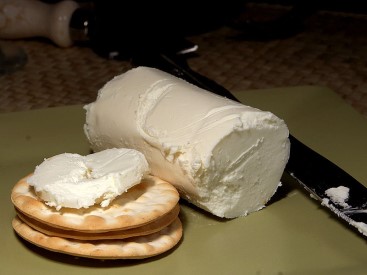 2017 schedule will be posted in the spring. :)
In this workshop we will cover:
- Materials/equipment needed
- ingredients and cultures (will briefly touch on kefir and yougurt)
- Types of cheeses
- how to make two soft cheeses
- Q&A (this will be a friendly, casual, interactive workshop where we will have dialogue throughout and Q&A throughout. :)


We will make a batch of delicious ricotta that I guarantee will be the best ricotta you've ever tasted! ;) We will also step through the process of making chevre cheese and will have plenty to sample of both! :) Participants will be limited to 8 to keep the quality of the learning atmosphere. :) Cost is only $12 to cover costs of milk/cheese being used. (compare this to any cheesemaking class!!!) :) You must pay in advance to reserve your spot. Please plan accordingly to be on time. Once the group leaves the front of the farm, we can not stop the class to come back and get you. :)
* Your paypal payment receipt will serve as confirmation of payment & your space reserved. :)
We will be adding more classes & workshops soon! Check back! :)