Nigerian Dwarf, Mini Alpine and Mini Saanen Goats and Kids (Babies) For Sale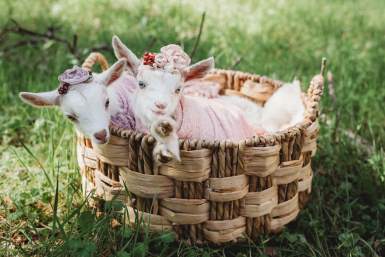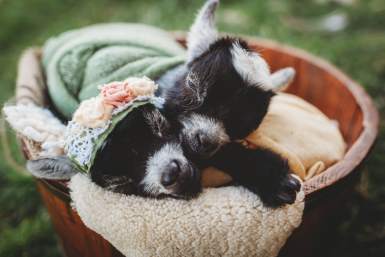 Photo License: Hazel Moon Photography
We are proud breeders of ADGA registered Nigerian Dwarf goats. We also have a small selection of mini Alpine and mini Saanen Dairy goats. We are located in central Virginia, in Charlottesville, VA.
We breed for heavy milk production, excellence in conformation, easy to milk (large) teats, parasite resistance and of course personality! All our babies are bottle raised and love human affection!
There will be many adult does in milk being sold after kidding January - April 2019.
Click here to see what I have listed so far, more to come!


Click here to see ** Doe Sales Page **
Click here to jump to kidding schedule introduction - includes info on what you get with your purchase!
Click here to jump directly to 2019 Kidding Schedule

Questions about buying a new goat?
When looking to buy a new goat, it is important to know what your goals are. Are you looking for excellent milk production? Are you looking for goats with the potential to be show goats? Are you just wanting some super cute little goats as pets? Are you looking for registered goats? Here are some answers to some of the most common questions new goat owners ask.
- Should I buy a registered goat?
There are many reasons that buying registered goats make sense.
It costs the same to feed and care for a registered goat as it does for an unregistered goat. Registered goats are generally going to be more expensive, but there is long term value to consider... read more...

- What type of housing do they need?
Goats need basic housing to keep them dry (goats HATE to get wet) and to protect them from wind during the winter. Do you have predetor issues? Coyotes, bear and fox can all be predators of goats, but the #1 killer of goats is... read more....

- What type of fencing do they need?
Your goats will need a large enough fenced in area for them to be able to run around, jump and play. If they are not going to be on pasture, their fenced in area should still ... read more...

- What do they eat?
Goats are browsers, they love many weeds, pasture grasses, leaves and shrubery. There are some plants that are poisonous to goats. Some are more poisoness than others... read more...

- What type of care do they need?
Other than providing clean water every day, free choice minerals, free choice baking soda and either pasture or hay,... read more...

Unless otherwise indicated, all baby girls (and their wether companions if applicable) are ready to go to their new homes - ON A BOTTLE - between 3 and 4 weeks old. They will need to be fed 3x a day for at least a few weeks and then can be weaned to 2x a day. Girls should be bottlefed for a
minimum
of 12 weeks old. Boys stay on their moms if I don't have a deposit on them before they turn 1 week old and are available at 8 weeks old.
ALL GOATS COME WITH A STARTER MEDICATION KIT!!!!
This will include five medications that you should have on hand (including enough dewormer for your first year), an instant read digital thermometer, various sized syringes, needles, curved eyedropper and instructions, all in a convenient carrying case... read more...

Wethers are $125 and

also come with a starter medication kit

.

**For bottle babies, starter kits also include a bottle and nipple specifically designed for goat kids.




A NOTE ABOUT MY PRICING


I want to explain the VALUE I feel you get when purchasing from me. If you already have goats, you probably understand the value and that is why you are here. ;) For newcomers to the wonderful world of goats, ... read more...

Several does in milk will be available after kidding. Click here to see what I have listed so far, more to come!
** Doe Sales Page **

If you would like a buckling out of any of these breedings where buck price is not listed, lets discuss your breeding goals and together, I'm sure we can find something to suite your needs. :)



****

****Discounts****

****




** $50 discount when purchasing 2 goats, $100 discount when purchasing 3 goats ** wethers are included in discount only IF purchased with a girl or breeding buckling**




Kidding Schedule
Many more to come, keep checking back!
Listed in order of due Date
Prices start at $250 for mini doe kids, $450+ for Nigerian doe kids, depending on their genetics. We do have multiple purchase discounts! $50 off 2, $100 off 3!! wethers are $150. Generally, the less expensive kids are from the first fresheners which are further down on the kidding schedule Remember, our kids all come with starter medical kits (see above for details), factor that into your buying decisions! :)

Wondering why all the different prices for different breedings?

The prices are based on many factors, including, LA scores from the doe AND her lines, DHIR records from the doe AND her lines, age of the doe (first freshener's kids are going to be generally cheaper, a doe with only a kidding left in her may have their kids priced higher...etc.), predictability of the outcome of the breeding (linebreeding, repeat breeding...etc.).



Reservations are $50 for doe kids and wethers, $100 for bucks, which goes towards purchase price. I don't sell single kids. They at least need a wether companion, even if you have goats. Wether companions (to girls or bucks) are only $75 after discount (no other discounts apply) and you could easily just sell the companion after your doe kid is well established into the herd. So much better for the kid, so much less stress. Only exception is if you have other 100% BOTTLE KIDS that are the same age.
| | | | | |
| --- | --- | --- | --- | --- |
| Doe | Buck | Due Date | Kid Info | Notes |
| Better Wayz Sirocco's Star | Gillispie's Black Bear | Just a place holder! check back after breeding for 2020 has started! :) | *Place holder* | *Place holder* check back after breeding for 2020 has started! :) |
| So excited for 2020 breedings to start in August!!!!! :) | Its going to be a heck of a season! | Yay babies! | Think pink!!! :D | Check out our events tab for baby cuddle events and our Doe Sales page for adults listed (link at top of this page). Thanks!!!!!! |
Blanket Reservations:
Reservations on specific breedings take priority over "blanket reservations". Blanket reservations are filled in the order received which is the same order as is listed. I'm happy to take what ever type of reservation you'd like to place. Examples of "blanket reservations" are: "black and white (or what ever your favorite color is) doe kid with companion boy", "two doe kids born in February", "two baby girls priced $550 or less", "doe kid with blue eyes", ...etc. We DO have a LOT of kids born here, so I am normally able to fulfill all blanket reservation requests!